Here's a selection of community events which provide food for thought, and a chance to learn or share practical skills:
Saturday 15th February, 1pm-4:30pm
Whose food? Our Food! An afternoon of films and discussion  
The World Development Movement will be showing a selection of films giving examples of people around the world reclaiming their right to grow food; to choose, to access land, and to grow their crops.  These demonstrate encouraging 21st-century alternatives to agribusiness practices. Questions, comments and discussion, partly in small groups, to follow after each film.  We will also be introducing WDM's new Agribusiness campaign.
All welcome. No charge, but contributions to costs requested. Vegetarian lunch available at the beginning (so come hungry!), as well as the usual hot and cold drinks and biscuits
Venue: Quaker Meeting House, 10 St. James Street, Sheffield S1 2EW (nr Sheffield Cathedral)

Sunday 16th February, 
11am – 3pm
Pruning workshop
Venue: Cat Lane (house next to Cattery)
Now is the traditional time of year to prune apple and pear trees, helping to maintain health and promote growth. Abundance Sheffield will be teaching people skills for pruning fruit trees and undertaking pruning of apple and pear trees on site.
Everyone is welcome, whether you're a beginner, someone who wants to hone their skills or an expert who wants to share their secrets.
Bring warm/weatherproof clothes, something to eat and drink if you like (there will be drinks available), and your own tools if you have them (tools will be supplied)
Please phone Daniele on 07894310412 to check for availability for a place – the session is free but donations are warmly accepted.
Saturday, 22 February 12pm -3pm
Sheffield Seed Swap

Heeley City Farm
Annual seed swap held at Heeley City Farm.
Pack up your home-grown seeds and come along to swap them with like-minded people. You'll be able to pick up tips on growing and information about local organic food growing projects. It's always very busy and there should be a few heritage seed varieties available.
Free but please bring some donations of seeds to help the event along if you can.
Directions: No 47 to Herdings from Wilkinsons bus stop in town stops right outside the Farm
For more details see http://growsheffield.com/sheffield-seed-swap-in-february/

Contact Daniele on 07535653842 or Darrell Maryon on 07768 932613 or 
darrell@heeleyfarm.org.uk
Sunday 2nd March, 11am – 4pm 
Transition Hope Valley Coppice Day
Upper Rough Wood, between Grindleford & Hathersage. Grid Ref: SK 246,795
The day will include a range of activities: Heavy horse working; snedding, sawing and extracting; bodging & green wood crafts; children's crafts and dens; the history of charcoal making; a wildlife trail; 'up in the trees'; woodland art and more. Soup and light refreshments are available for a small charge.
Come in old clothes and boots, and bring bow saw if you have one £1 Entry Charge. Contact Peter 01433 630740
See more info, including directions at: Hope Valley Online and the Grindleford blog.
21 March, 9:30am-1pm
BIG Energy Upgrade – Final Event
Halifax Hall, The University of Sheffield
This event will showcase the findings of the Big Energy Upgrade Project and will look at the overall impact the project has had including the effectiveness of retrofitting work, the structure of the supply chain and the influence on the behaviour of residents within different communities, how best to design future projects of the same nature.
BIG Energy Upgrade is Yorkshire and Humber's first 'whole house, whole community' renovation programme.  For the past three years the scheme has helped support some of the region's most deprived and fuel poor communities with a wide range of energy saving services.
27-28 March, 5pm-5pm
The 24 hour inspire
24 hours of lectures on a wide range of topics – from physics to philosophy, from law to literature, from maths to medicine – all for non-specialist audiences, by speakers from across the University of Sheffield and beyond, in celebration of Dr Tim Richardson (1964-2013) and his charity Inspiration for Life, and raising funds for local cancer charities.
See the 
Inspiration for Life
 website for updates as the event approaches, and for general enquiries email Catherine Annabel, 
c.j.annabel@sheffield.ac.uk
Sat, 29 March, 10:00am – 4pm
Heeley City Farm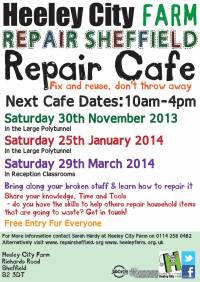 The repair cafe is a place for people who can mend stuff to bring their tools and people with broken stuff to get together and share skills and get stuff mended over a cuppa. Bring: Small Electrical appliances, toys, shoes, clothes, pots, kitchen equipment, computers, bikes, audio equipment, furniture, etc.
We will see if we can help you mend it. Free, but we ask that if your item is successfully repaired, a small donation is given to cover the cost of materials – all fixers are volunteers and the project has no funding. If you'd like to volunteer as a repairer, please emailinfo@repairsheffield.org to be registered.
So plenty there to be going on with – we encourage you to brave the weather and get on out to some of these fantastic events.