The Transition Towns Movement
Transition Sheffield is part of the international Transition Network, born out of the urgent need to respond to the dual threats of climate change and the end of cheap energy from fossil fuels (peak oil and gas).
A Transition Town is a community in transition from a high energy way of life to a much lower energy one. As global oil supplies begin to diminish, our way of life – which depends on cheap, readily available oil – will inevitably change.
Transition initiatives can help to imagine a life beyond consumerism, share skills and resources, reduce carbon emissions, build local communities and strengthen local economies. We hope you can join us!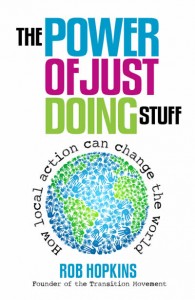 For more information see further resources:
"What is a Transition Initiative?"
"Why do Transition?"
Transition Handbook (also available online)
plus new book "The Power of Just Doing Stuff".
About Transition Sheffield
Transition Sheffield promotes a transition to more sustainable lifestyles and communities across Sheffield. We put on regular events and act as a hub group supporting and promoting other local groups, whether they are local Transition groups in the Sheffield region, or other initiatives which are contributing to creating more sustainability across Sheffield.
Our Aims
We are motivated by the challenges of climate change and the energy crisis
to engage all of Sheffield's communities in the transition to a sustainable society.
We aim for healthier, happier, inclusive, creative and resilient communities,
free from dependence on fossil fuels.
Active Transition groups in the Sheffield area have:
Shown environmental and topical films at venues
Created an edible community garden
Hosted creative low-energy social events like the pedal powered 'Zero Carbon Cabaret'
Organised a street party
Set up a community food project to buy a 9 acre field
Organised permaculture courses on sustainable living
Created a vision for a local area in sustainable 2030
Held the Sheffield's 2013 Transition Awards
Started a Repair Cafe
Our constitution is on our old wiki site (ignore security errors to take a look).
There are many exciting initiatives across Sheffield: See some suggestions and get involved!.
And finally, here are a few local Transition folk caught on camera by Rob Hopkins in Sheffield, saying what Transition means to them, and what keeps them involved:
And here's a presentation about Peak oil.
PS.  Thanks to webarchitects for their expert and ethical hosting of our web systems.