Here's a round up of local and national news as November draws near.  Lots to look forward to both for campaigners and those who like a film or a ceilidh: the challenge will be choosing between conflicting events!
Wednesday 30 October: Carbon Capital – Fighting the finance that's driving climate change
WDM Sheffield is holding a talk, including short film, on 30th October, how banks and financial institutions are financing climate change. The talk is free and open to all.
7pm, Quaker Meeting House, 10 St James Street, Sheffield, S1 2EW
See http://groups.wdm.org.uk/sheffield/2013/09/15/carbon-capital-speaker-tour/
Monday 4 November: Film "Chasing Ice"
Free screening of a new award-winning documentary about climate change.
The Showroom, Paternoster Row S1 2BX, 6pm.
Brought to you by The Co-operative Group. Book a free place at www.co-operativememberevents.coop
Wednesday 6 November: Refreshing the Sheffield Food Strategy Workshop/Consultation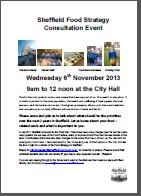 There have been many changes in Sheffield since Sheffield produced its first Food Plan in 2011.  Some changes have been positive, for example the continuing success of the Food Festival, action to improve School Food and the soon to be opened new Market on the Moor. Unfortunately there have also been cuts in welfare and the appearance of Food Banks in the city. We feel the time is right for a refresh of the Food Plan – (now draft Food Strategy) for Sheffield.
This event will be in the morning of the 6 Nov at City Hall. Please contact Jill Lancaster (Jill.Lancaster@sheffield.gcsx.gov.uk/0114 205 7469) for further information about this event or if you wish to be part of a virtual network of people who have an interest in this area.
Thurs 7 November: Dirty Energy meeting
Sheffield Friends of the Earth are planning an evening meeting on issues relating to Dirty Energy.  There will be a presentation by one of FOE's national campaigners, and input from other organisations including Transition Sheffield.  There doesn't seem to be further information online, but the details given were University of Sheffield, Arts Tower, Thursday 7th of November at 7pm in Lecture Theatre 5.
Thursday 14 November: Re-visioning Parks: new approaches for our great outdoors
Green and open spaces are under pressure: budget cuts and a lack of priority for open spaces and the green sector are having an impact at local and national scales. This event provides the opportunity to find out about new ways we can develop and manage green and open spaces to address the current challenges.9am – 1pm, in the Centre in the Park, (Norfolk Park), plus an afternoon site visits nearby and an evening talk at University of Sheffield Arts Tower  by Prof. Nigel Dunnett.  See more info and book a place.
Fri 15 and Sat 16 November: Bringing sanity into the world of finance
An evening talk and a morning session led by the influential economist Arthur Edwards.
Collapsing banks, money being created out of nothing, the belief in endless growth etc etc. How can we make sense of it all, when there are widely divergent expert opinions? To use a phrase that Schumacher coined, how can we have an economics as if people mattered?
7.30-9.30pm, Friday, 15th November – Making sense of money
10am -1pm, Saturday, 16th November – Money unveiled
Freeman College, 88, Arundel St, Sheffield S1 2NG
Talk. £5/£3. Morning session £12/£8. Both events £15/£9 or pay what you can afford
See more information
Saturday 16 November: Just Economics with Anne Pettifor
Location: St Mark's Church, Broomhill, S10 2SG,  (£11/£5 students).
This a a day conference on "Just economics", with the renowned economist Ann Pettifor. Ann Pettifor, is an international economist and well published author. Along with others at the New Economics Foundation, she predicted the financial meltdown of 2007. She argues that the austerity measures are not needed, will not work, and are unjust. Ann is an excellent speaker and the event is expected to sell out. You can book online, by phone (0114) 266 3613, or turn up at the door.
Sun 17th November: Home Grown Ceilidh
The lovely Well-Dressed Band has announced their next Home-Grown Ceilidh. Each monthly event supports a local voluntary/community group, and the partner group for this coming month is Sheffield Climate Alliance. Sheffield Climate Alliance is an alliance of local organisations and individuals who are pressing for effective action to tackle climate change, and Transition Sheffield is part of the alliance, so we urge you to come along and meet other like-minded folk.
7:30pm at the Broomhall Centre, Broomspring Lane, Sheffield S10 2FB, Tickets £5 in advance/£6 on the door.  Bring food to share, and your preferred drink (there is no bar).
Wednesday 27 November: Transition Cafe in Belper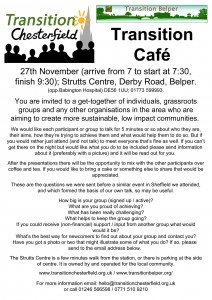 Building on the success of the recent transition get-together event in Sheffield, Transition Chesterfield will be hosting a Transition Café in Belper.
This is a get-together not only of Transition groups but any organisations or individuals who try to live by sustainable environmental standards.
Each participant will have a few minutes to tell their story – how they came about, what their aims are and how they're trying to achieve them.
See the flyer for full info.
25th January 2014: Transition Chesterfield Potato Day
Transition Chesterfield's Potato Day is so popular that they now take pre-orders. As some of the popular varieties of potatoes, onions, shallots and garlic can run out quite early on the day, you can order in advance using their order form. Prices are pretty competitive, especially as you can just buy a few tubers to try out.
Wednesdays, Jan-March: Organic Gardening Course
A 10 week indoor (classroom based) course from Grow Sheffield for beginners or experienced growers where you can look at the theory of organic gardening, soil management, ecology, sustainability and growing food naturally.
See: http://growsheffield.com/organic-gardening-course-theory/
Big Transition Event for the North of England
Transition Lancaster are hoping to run a regional conference in 2014.  This will only happen if they get plenty of support in making it happen, so if you're able to be involved, drop a line to Samagita@phonecoop.coop and they'll put people in contact with one another via the web so that much of the planning can happen without needing loads of travel.